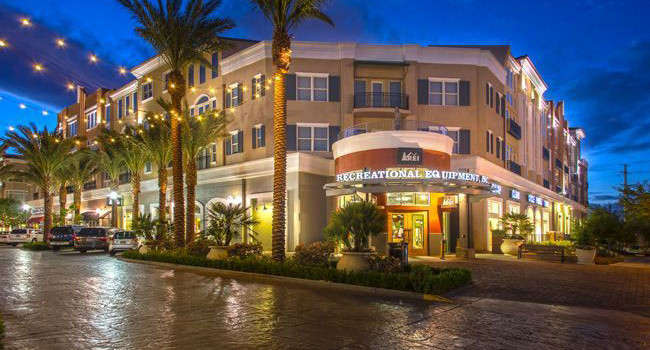 Vestar Completes Renovation of The District At Green Valley Ranch Retail Center in Las Vegas
Vestar has completed the renovation of The District at Green Valley Ranch, a 384,107-square-foot landmark retail property minutes from Las Vegas in Henderson, Nevada. The project includes Whole Foods, West Elm, William Sonoma and many other top lifestyle retailers.
After spending nearly $3 million, Vestar has enhanced the overall consumer experience throughout the 37 acre center. The firm also added decorative lighting above the new Main Street, new outdoor furniture and seating areas, splash pad for kids and improved landscaping featuring beautiful palm trees creating additional shade. With the improvements, Vestar now has the ability to partially and/or fully close the street with built in bollards for select events such as the upcoming Farmer's
Market slated to kick off in mid-March.
"The renovation which was completed in the fourth quarter of 2013 culminated with a Fall Festival celebration featuring fashion shows, cooking demos and family friendly activities," said Jeff Axtell, Executive Vice President of Vestar. "The new look is having a big impact on the center and its tenants with results showing a nearly 20 percent increase in sales and accelerated leasing highlighted by the addition of Luna Rossa Ristorante and LYFE Kitchen who will open later this year. Retailers are also investing in their business with store remodels and upgrades."
The District is located within Green Valley Ranch, a leading master-planned community located in the Black Mountain foothills, about 10 miles southeast of the Las Vegas Strip. Phase one of The District was developed in 2004 and encompasses 212,622 square feet of retail and office space on the west side of Green Valley Parkway. The 21.54-acre property is comprised of 50 national and regional stores and restaurants; 88 luxury condominiums; and complementary office users. The shopping, dining, entertainment, residences and office space are joined via a pedestrian-friendly main street plaza and a central park. Phase one is 85 percent leased to several high-profile tenants including REI, Pottery Barn, Anthropologie, Williams-Sonoma, Ann Taylor Loft, White House/Black Market, King's Fish House and P.F. Chang's. Phase two of The District was developed in 2006 and totals 171,485 square feet on 16.02 acres. The property consists of six buildings with a retail and office tenant mix. Phase two is 82 percent leased, anchored by Whole Foods and also including tenants such as West Elm and The Cheesecake Factory.