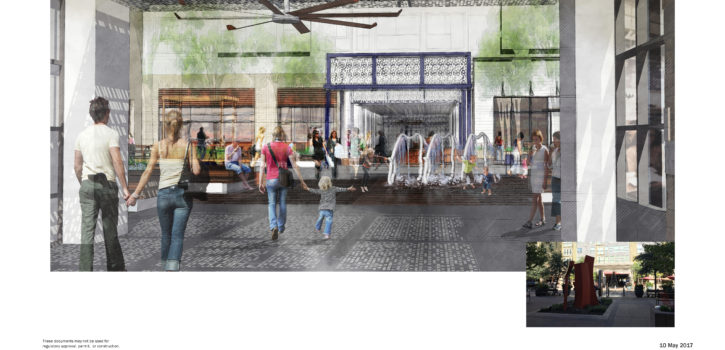 West 7th in Fort Worth Announces New Name ─ Crockett Row at West 7th
West 7th in Fort Worth has unveiled its new name and branding as Crockett Row at West 7th. The name is inspired by Crockett Street, which runs through the middle of the development and is lined with specialty shops and patio restaurants. The Crockett Row at West 7th logo and branding reflect a clean, modern look that also proudly pay homage to Cowtown's western culture.
Vestar, which manages Crockett Row at West 7th, partnered with The Woodmont Company to lead the rebranding and a strategic leasing campaign to reposition the property's street-level retail space.
In addition, local architecture firm Bennett Benner Partners has designed many new architectural enhancements to offer a more consumer-friendly experience. Updates include individually-designed tenant storefronts, additional shading and landscaping, public art, and a text-to-retrieve valet system with a central pick-up and drop-off location.
"The tremendous growth of the West 7th area drove the decision to evolve the identity of the property," said Senior Vice President Peter Jacobsen of The Woodmont Company. "The Crockett Row brand will better distinguish the property's popular restaurants, stores and events to continue to attract visitors, as well as the very best retail and dining concepts."
In a few short months, the leasing team, lead by Jacobsen and Erik Coslik, has secured several prominent tenants including West Elm, Common Desk and C.H. Robinson.
As announced in April, West Elm will open this summer in an 11,000-square-foot space at 2869 W. Seventh St. The store will feature a selection of furnishings and décor products made by Texas-based designers as part of the West Elm LOCAL program. A design lab will offer West Elm Style + Service. This initiative demonstrates the company's commitment to support the Fort Worth community of artists, creators and designers.
Common Desk, created by local entrepreneur Nick Clark, offers coworking space for freelancers, startups and small companies. While maintaining its industrial chic brand, Common Desk makes each of its locations unique to the vibes of that neighborhood. This office will be the fourth Dallas-Fort Worth location and have 75 shared seats, 110 dedicated desks, private offices and conference rooms along with amenities such as an outdoor patio and a hospitality bar with snacks and coffee. Sign up for a tour and learn more about Common Desk memberships at thecommondesk.com. Common Desk will open in September in a 13,000-square-foot space at 2833 Crockett St.
C.H. Robinson will relocate its Fort Worth office to an 11,984-square-foot space at 812 Norwood St. in August. The company is one of the world's largest third party logistics providers of freight transportation, outsource solutions, produce sourcing and information services.
"First-to-market tenants like West Elm and Common Desk will further establish Crockett Row as a vibrant destination in Fort Worth," said Cristina Ruiz-Goodwin, marketing director of Crockett Row at West 7th. "We're proud to offer guests a distinctive mix of top national and locally-owned retailers & restaurants, as well as dynamic arts and cultural events."
Located in Fort Worth's Cultural District, Crockett Row at West 7th will launch several new events this year as part of its rebranding. Events include Blues Brunch in July; the Local Filmmakers' Festival with Film Fort Worth in October; and Illuminate in November. Signature family-favorite events will remain, including the Chalk Art Festival in September and the Starlight Symphony show in December.
Signage with the new Crockett Row at West 7th brand will be installed in the coming months. The parking garages will be enhanced with new wayfinding features to improve the guest experience. Garage parking will be exclusively for use by guests of Crockett Row at West 7th.
More exciting new tenants will be announced soon. For more information, please visit crockettrow.com and follow Crockett Row at West 7th on Facebook, Twitter and Instagram (@CrockettRowW7th) with the hashtags #crockettrowatwest7th and #crockettrow.