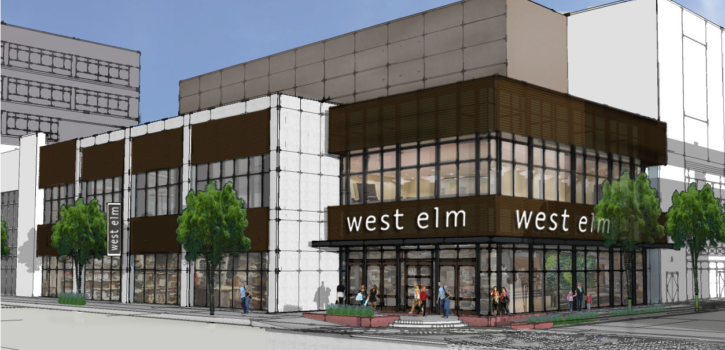 West Elm to Open First Fort Worth Store at West 7th
West 7th Fort Worth is proud to announce that West Elm will open its first Fort Worth location this summer in the development at 2869 West 7th St. The store, located on the high-visibility corner of West 7th and Currie Street, will occupy an 10,502 square-foot space at the street level.
With the mission of helping customers express their personal style at home, work and away, everything West Elm does is designed to make an impact in everyday life, from creating unique, affordable designs for modern living to its community-driven in-store events and collaborations.
West Elm will feature a selection of Texas-based makers and designers who will sell their products in the store's fall assortment of modern furnishings and décor as part of the west elm LOCAL program and a design lab will offer West Elm Style + Service. This initiative demonstrates the company's commitment to support the Fort Worth community of artists, makers and designers.
The Woodmont Company, responsible for leasing efforts at West 7th, sees the long-term synergy between a company like West Elm and the West 7th development.
"The Cultural District is truly special, and West 7th is proud to be an integral part of this community," said Peter Jacobsen, senior vice president at The Woodmont Company. "We believe the commitment by West Elm and our upcoming announcements of other new retailers and restaurants is further testament to the neighborhood's evolution into one of the top urban, walkable shopping and entertainment districts in Texas."
West Elm will announce grand opening plans this summer. For up-to-date information on in-store promotions and events, please follow the West Elm Fort Worth store on Instagram (@westelmfortworth) and Facebook.
West 7th is managed by Vestar. For more information about the property, please visit west-7th.com and facebook.com/West7th.